The 2021 Toyota Yaris Cross Hybrid is a little SUV that in this colour got a lot of attention.
Everyone wanted to know what the colour is called and rather disappointingly it's… beige!! My eldest daughter was ecstatic that it matched her honey coloured  Wander and Wild natural rubber gumboots.
Keen to find out how this new little hybrid Toyota than just it's quirky colour we put it through our BabyDrive testing. Let's see how it went…
2021 Toyota Yaris Cross Hybrid was a pretty small BabyDrive for our family of four. We could fit our two child seats in the back nicely but there wasn't room for me to sit between them. There are top tether anchorages on the back of all three rear seats so you do have the flexibility of where you position your child seats.
With one forward-facing and one rear-facing child seat it was a bit like Tetris on each car journey because of my 184cm husband. Who could only just squeeze in front of the rear-facing child seat on the passenger side.
In front of the forward-facing child seat on the drivers side he left our five year old with no leg or knee room at all.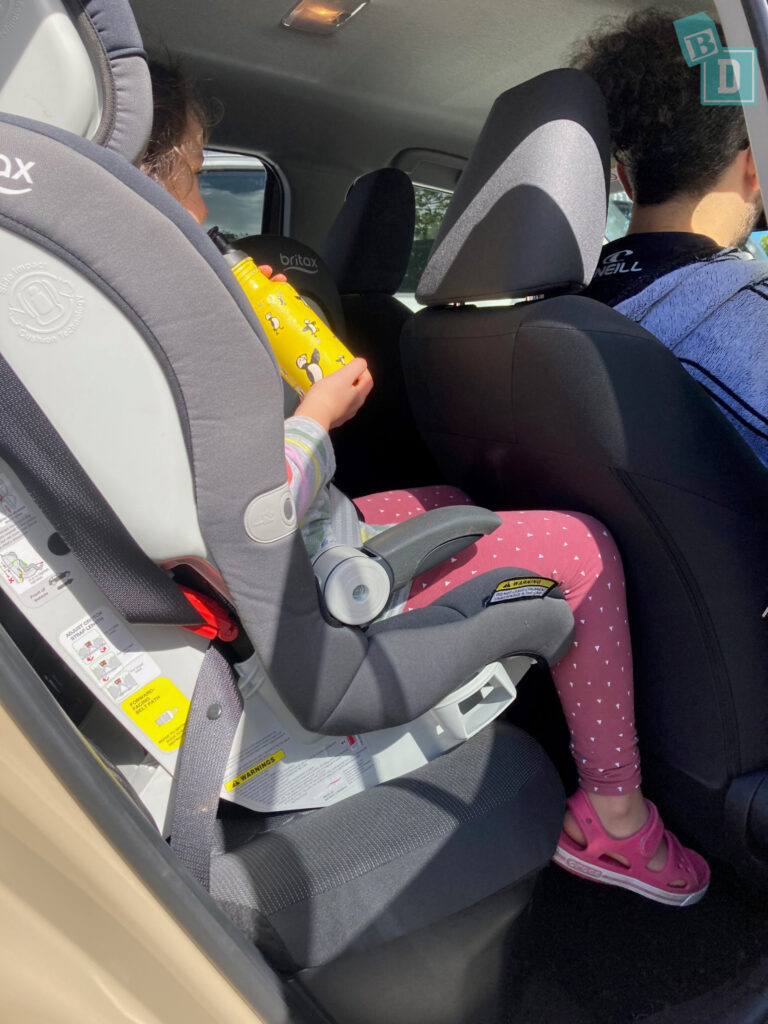 The boot space is quite minimal too mainly due to it being so shallow.
Empty it will fit nine shopping bags which is comparable to the Volkswagen T-Cross, Hyundai Venue and Mazda CX-3 which all hold eight shopping bags. Or the Nissan Juke or Kia Stonic which both hold ten shopping bags.
The boot is just about shopping bag depth, before the flimsy sun shade style parcel shelf fits on top of them.
This means most modular prams stack higher than the parcel blind.
A small dog could travel in the boot of the 2021 Toyota Yaris Cross Hybrid if you remove the parcel blind.
The media system in the 2021 Toyota Yaris Cross Hybrid is basic looking and feels simple to use.
There is the usual split home screen which makes it easy to quickly select which function you want while driving.
The media system does have CarPlay and Android Auto which is fantastic, you can use the ABC Kids Listen and Spotify, etc while driving along and reply to all the messages you quickly read but never got around to replying!
The hybrid engine makes the Toyota Yaris Cross Hybrid a lovely quiet car when it starts up, me and the kids enjoy watching the energy usage on this screen while driving along. I found I could drive my kids to sleep using mostly battery power and sit with the aircon running while they nap without chewing through the fuel or pumping out exhaust fumes. However the engine really struggled up hills and it was pretty loud and revy.
Being such a small SUV, the Toyota Yaris Cross is easy to park. The reversing camera gives you a bird's eye view which is helpful
and there are a few other camera views too like the kerbs which is useful too.
Storage is minimal throughout the Toyota Yaris Cross, there is a handy little shelf in the dash…
…no central console box just this well my kids used to hold their drink…
…the door bins will all hold a large refillable water bottle though.
The 2021 Toyota Yaris Cross Hybrid is the only car of its size available as a hybrid. So if you if the size for parking and a hybrid engine are on your tick list then give it a look. Just test ride that legroom with your child seats and any tall family members before you commit.
I really enjoyed the quiet start of the 2021 Toyota Yaris Cross Hybrid and it was simple to drive gently around town on your own and easy to park in school and supermarket carparks because it's so small. However when the engine kicks in it sounds like someone firing up an outboard motor at the boat ramp and gets revy and loud especially going up hills and the road and wind noise is loud and tiring on motorways.
The 2021 Toyota Yaris Cross Hybrid has not been through ANCAP crash testing, it has eight airbags as standard.
BabyDrive Indepth