I am extremely excited to have come down to country Victoria to drive the brand-new 2023 Nissan Pathfinder! This included towing a jet-ski for the first time in my life!! The launch also included driving off-road, on gravel and corrugations, something I have done a lot and LOVE! All this was followed by driving it through the Melbourne traffic to the airport to head home. So I got to really see what the new Nissan Pathfinder would be like to drive for a family on weekdays, weekends and holidays!
The new Pathfinder handled all driving situations and road surfaces well and I found in 'mud/rut mode' on gravel the noise and vibration was minimal which would be good if I had the car loaded up with kids.
The Pathfinder gripped well and was easy to control on the uneven surface.
It was my first time towing a jet ski and most of the time I forgot it was there apart from when I took a wrong turn and had to do a three-point-turn which was fun and made easier by the clear rear view cameras.
The new Pathfinder is a big SUV and I found visibility to be really good, the windows are all nice and deep. This along with the tight turning circle makes manoeuvring and parking nice and easy.
There are 360-degree cameras in the new 2023 Nissan Pathfinder…
… and a rear-view mirror camera so you have great visibility when you are loaded up with child seats in the back too.
Great news for families is that the Pathfinder scored a five-star ANCAP rating with a very high score of 93% for child occupant protection, making it one of the safest cars for kids, along with the new Ford Everest and Ranger, and the 2023 Nissan Qashqai that I'll be reviewing early in the new year!
The 2023 Nissan Pathfinder is available as a seven- or eight-seater. The seven-seater Ti-L models have captain's chairs in the second row with a storage bridge between that's removable for great walk-through third-row access. Both seats have ISOFix and top tether anchorages so you can put two Infasecure child seats in that second row.
The eight-seater models have a bench seat in the second row that is split 60:40. The single seat is on road side, not the kerb side, a consideration when taking kids in and out of the third row.
The second-row bench seat has top tether anchorages on the back of all three seats and five ISOFix points across the second row, giving you the flexibility to put ISOFix child seats in either of the two outer seats or the central seat.
In both the seven and eight-seat models the third row is a three-seater bench seat.
They have ISOFix and top tether anchorage in just one seat, so you can put another child seat back there.
I only had the Infasecure Versatile Folding Booster seat with me so I could not do my full BabyDrive testing and see if three Infasecure child seats will fit across the second-row seats with a fourth in the third row.
From my experience looking at the seats, I think three Infasecure Attain More child seats will fit comfortably forward-facing or rear-facing across the eight-seater's second-row bench seat. I will test this when I do my full extensive testing in the next few weeks.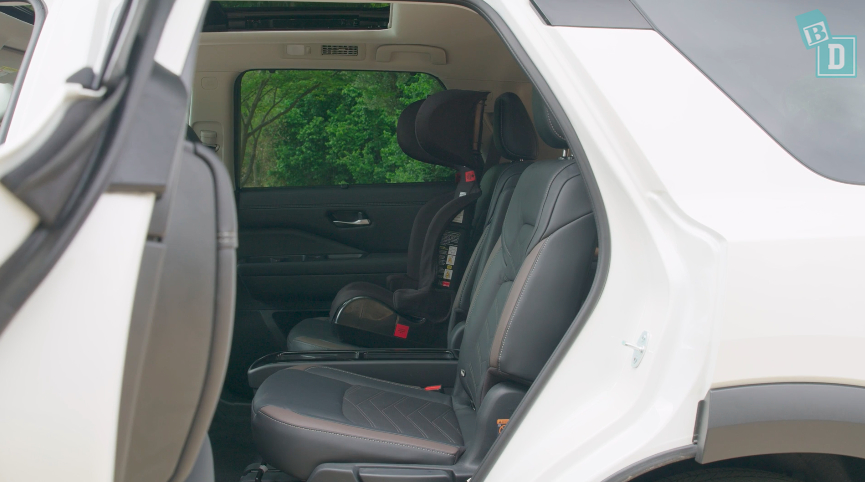 The new 2023 Nissan Pathfinder has great third-row access with their Ezy flex third-row entry activated by a one-touch button.
This works even if you have a forward or rear-facing Infasecure child seat installed as long as you are using the ISOFix and not the seatbelt to secure the child seat. There is also a button on the back of the seats so the third-row passengers can press it to easily let themselves out.
Legroom seems to be very good in the 2023 Nissan Pathfinder, I am guessing a 180cm passenger will be able to fit in the first and third rows with a rear-facing Infasecure Attain More child seat in the second-row seats between them. I will check this when I do my full BabyDrive testing in the coming weeks.
There is no hump in the middle seat footwell in the second row which makes it much more comfortable for a central seat passenger and for all rear passengers to move around the cabin and get to their seats, whether they are in the second row or walking through to the third row.
The comfort of rear passengers in both the second and third rows has been thoughtfully addressed in the new Pathfinder with built-in rear-door window blinds to help shield rear passengers from the sun while driving along.
There is lots of storage and cup holders throughout all three rows and there are USB and USB-C sockets in both rear rows of seats so passengers can plug in their devices while travelling.
Rear passengers can also be kept at the right temperature with aircon vents in the ceiling of both rear rows of seats and these can be controlled from the front dash too.
The central dash houses a 9-inch touch media screen, a 12.3-inch digital dashboard in front of the steering wheel and a 10.8-inch head-up display. The 2023 Nissan Pathfinder has Wireless Apple CarPlay and wired Android Auto connections.
There is a wireless charging pad for smartphones.
The Pathfinder has a nice big boot that is even larger than the previous model, which was already a class leader, so you will easily fit a pram in the boot even when using all three rows of seats.
There is also a huge underfloor plastic storage area that will be great for all the wet beach gear after your beach or camping trip!
I will put the boot of the new Pathfinder through our full BabyDrive testing with shopping bags and a range of prams in the coming weeks.
I drove the top-spec Ti-L 4WD model with all-wheel drive. The Pathfinder is currently available in five variants starting from the base spec 2WD ST model (front-wheel drive) priced at $54,190, ST-L 4WD at $61,790, the mid-range 2WD Ti priced at $65,910, the 4WD Ti at $70,030 and the top-spec 4WD Ti-L $80,227 (all these prices are before dealer delivery, stamp duty etc).
The new 2023 Nissan Pathfinder is going to be a family favourite, I am sure! I love its ability to do the weekly school run and commute and take your family on off-road camping adventures at the weekends! My only concern is that you can only get it with a big V6 petrol engine that could be a bit gas-guzzling compared to other big SUVs like the Hyundai Palisade and Kia Sorento as well as the Toyota Kluger that come with hybrid or diesel options.
I am looking forward to taking my family on our Xmas camping trip in the new 2023 Nissan Pathfinder this summer. Tune in soon find out how we go off-road and on the beach and whether we fit two adults, two kids, two swags and enough food to feed two growing kids whose stomachs are bottomless pits (and whether the Pathfinder's petrol engine has a similar appetite)!